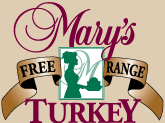 mary@marysturkeys.com
Call Mary At:


(844)-444-MARY (6279)



















Allow 11/2 cups stuffing for each pound of ready to cook turkey.
1
1/2
Cup Minced Yellow Onion
3 Cups Chopped Celery (Stalks and Leaves)
1 Cup Butter
18 Cups Soft 100% Whole Wheat Bread Cubes
2
Teaspoons Salt
3 Teaspoons Crushed Sage Leaves
2 Teaspoons Thyme Leaves
1 Teaspoon Pepper
2 Cans Medium Pitted Olives
♦ In a large skillet, cook and stir onion and celery in butter until onion is tender. Stir in about 1/3 of the bread cubes. Turn into deep bowl. Add remaining ingredients and toss. Stuff turkey just before roasting. 18 cups (enough for a 12 pound turkey).
The Greatest
Turkey Sandwich
Ever!
Put a layer of cranberry sauce, dressing, sliced turkey, and mayonnaise on your favorite bread for a delicious sandwich.